2023 LEVITT AMP HĀNA MUSIC SERIES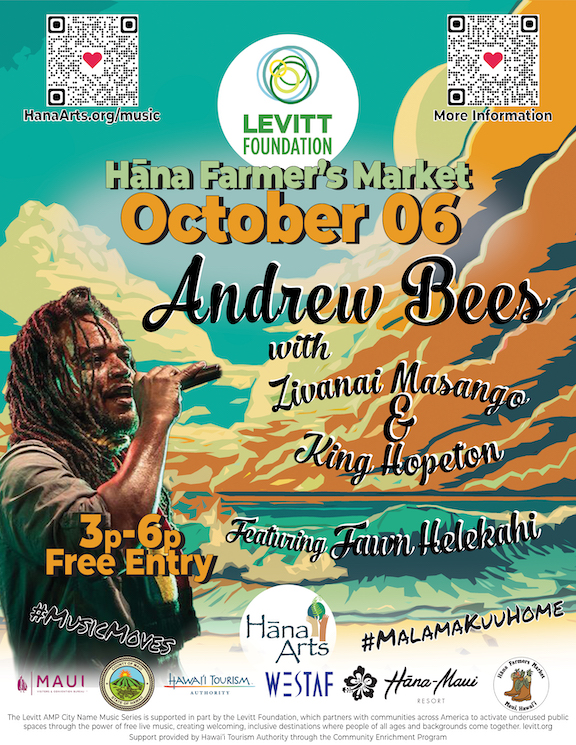 Mahalo to everyone's efforts during this challenging time for Maui!
Our Concerts with a Cause Fundraiser which ran from August 19 – September 2 raised over $40,000 to support Common Ground Collective and community based agriculture to feed Maui Families in need!
The 2023 Concert lineup ends this Friday, October 6th with Andrew Bees, frontman of Grammy Award winning group Black Uhuru along with Special Guest Grammy Nominated Producer King Hopeton & Zimbabwe AfroPop Star, Zivanai Masango, are featured as our guest musicians. And our very own Fawn Helekahi is our opening performer!
To listen to the PSAs that were created for the 2023 performances and aired on KOKO-LP visit HanaMaui.com/East-Maui-Events Page
Parking is accessible in the grassy lot below Hāna Ranch store. Please do not park in lots used for the post office, bank, restaurant, general stores or gas station. 
This is an 'ohana-friendly event. Please no alcohol or smoking on, or around, the market grounds. But you can walk up to The Ranch Restaurant Patio from 3 to 7 pm for Happy Hour pupu's and drinks with a birds-eye concert view. 
Music Series Voucher Day!
We'll give you a $5 market voucher* 
Just complete our Hāna Arts Music Series Survey!
*This Voucher is available at the Hāna Farmers Market management tent. Vouchers are first come first serve. Shoppers must be 12 years of age and able to complete our event survey. Vouchers are good for all farmers market items purchased on the date of distribution only. Hāna Arts artist booths and other community non-profit booths are not eligible to accept vouchers. No change will be provided.