Hāna Nui Farm

Hāna Nui Farm began in Ka'eleku by the McClure 'Ohana in 2018. They work together to maintain their fruit orchard, produce their body-care line, and bring their many offerings to the farmers market every Friday.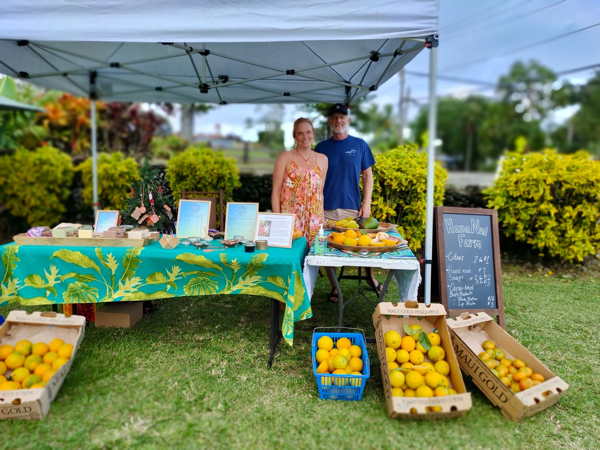 Doug's passion for nature and the outdoors, led him to the world of gardening and landscape design. For him, the ultimate meditation is propagating, growing and harvesting from their orchard. He enjoys introducing new plants to their farm, which currently produces a wide variety of citrus and exotic fruits including: limes, lemons, oranges, tangerines, ruby red grapefruits, tangelos, lychee, rambutan, soursop and mangosteen.
"The size and overall quality and quantity of the fruit still amazes us. Of course we love the exotics, but Doug favors the tangelo. He always says they're like little works of art coming off the trees. We love farming and harvesting together as a family with our children, and our son Stratton gives THE BEST farm tours! – Shannon McClure
Shannon is the inspiration and creator of Hana Nui's line of therapeutic bath and body products, Sacred Essentials. She enjoys the creative process, incorporating their farm produce into their products, while continually expanding and improving their existing Sacred Essentials' line. She was guided to explore the many types of alternative healing while grieving the unexpected lose of their son, Cameron, in 2009. After taking an advanced course in clinical aromatherapy, she was inspired to create a line of products that would aid in her healing, as well as that of her patients, family and friends. It was their painful grieving process, which prompted them to reevaluate and reprioritize their lives. Thus, they embarked on a spiritual journey which eventually led them to resettle in Hāna. A move which allowed them time and space for healing their hearts, while focusing on what's truly important.
"We are so grateful to be a part of this wonderful community. The Hāna Farmers Market has allowed us to get to know our neighbors much better, to make new friends, and to interact and collaborate with other farmers and artisans. We feel very fortunate to be surrounded by so many talented farmers and resourceful people. We truly look forward to participating in the market each week! – Shannon McClure
Among their best selling Sacred Essentials products, is their original Raw Cacao Body Butter and Cacao Lip Butter. Some of their other favorites, include their new Coconut Shampoo Bars, Mango Avocado Conditioner Bar, and Cacao Argan Deep Conditioner Bars. These products are all made using coconut oil, because it penetrates the hair shaft and provides moisture, body, and shine without weighing it down. As an added benefit, their shampoo and conditioner bars contain therapeutic-grade essential oils, specifically chosen to promote healthy hair and scalp. Best of all! they're re a "no waste" product, packaged in a reusable and recyclable aluminum tin.
Aside from their new farming endeavors, Doug ran his own engineering firm and testing laboratory for 30 years. His specialty? Figuring out why things break! He's also a musician. Performing as a vocalist, piano/keyboardist, and guitarist most his life. His band even won a talent competition in high school against country superstar, Garth Brooks! Shannon is also an artist, entrepreneur, registered nurse, and healthcare administrator for a 24-hour assisted living program she established 10 years ago. You can also find her reading non-fiction, meditating, doing yoga, and creating beautiful things all around her!
What's in Season on the Farm
Stop by their booth this week for papaya, avocado, banana, and lime. Get a 20% kamaʻāina discount when you purchase any item from their Sacred Essentials product Line including homemade soap, body butter, lotion, body scrub, shampoo bars, conditioner bars, and lip butter. Check em' out!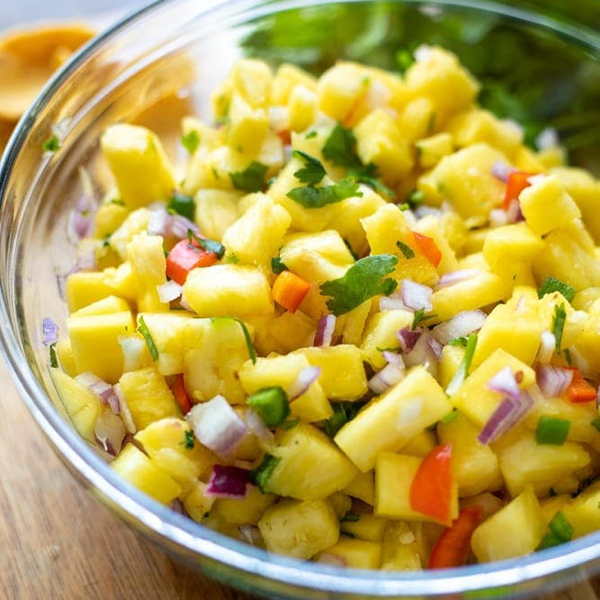 Shared from the Maui Nui Farms Kitchen
Papaya Pineapple Salsa/Pico De Gallo
Ingredients:
1 cup papaya, peeled and chopped
1 cup pineapple, diced
1/2 cup tomato, diced
1/2 cup sweet red pepper, diced
1/2 cup purple or yellow onion, chopped
Hawaiian Chili Peppers (or jalapeño peppers) to desired level of spiciness, finely chopped
2 Tbsp lime juice
1 Tbsp lemon juice
salt to taste
3 Tbsp cilantro, minced
Instructions:
Combine all ingredients, except cilantro in a large serving bowl. Chill for 1 hour. Add
minced cilantro just prior to serving. Makes a great dip with tortilla chips, or as a garnish
on fish/shrimp tacos.