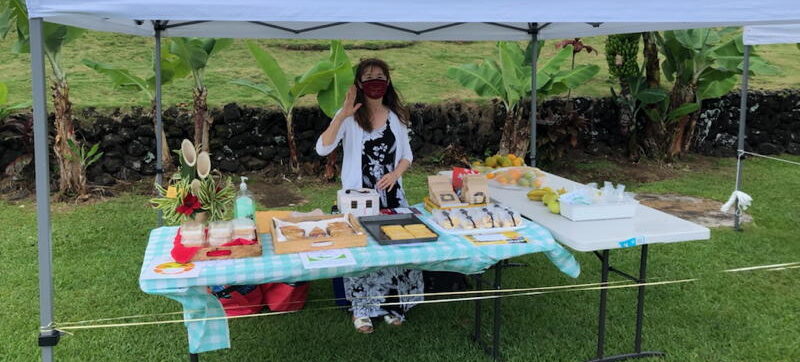 If you've visited the farmers market, you've seen Kuniko Kato waving from behind her piles of fresh fruit, baked goods, and medicinal teas in the Hāna Garden's booth.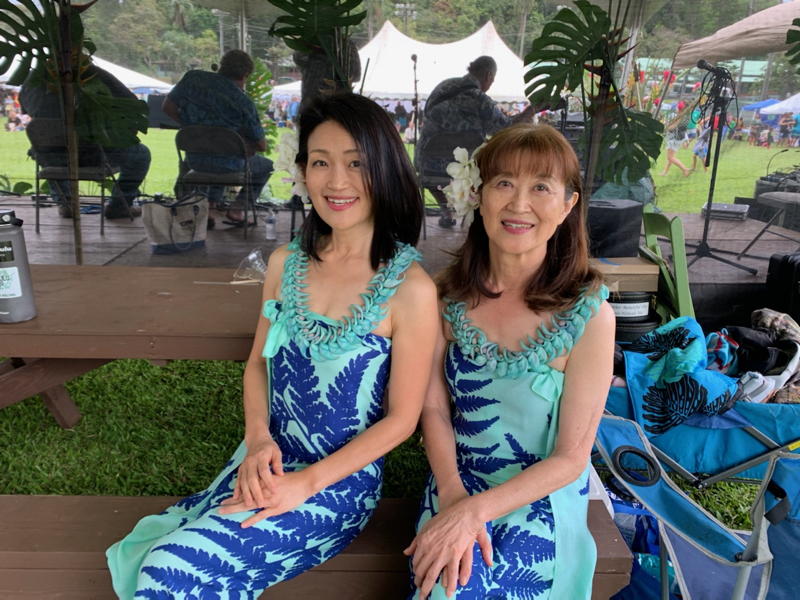 Hana Garden is a working family backyard farm, with a one-acre mature fruit orchard and garden. While Kuniko enjoys harvesting during her morning strolls throughout her property, much of the Hāna Garden harvest and orchard maintenance is managed by her grandson-in-law Levi, and their family friend Randy. The land at Hāna Garden is bountiful, producing soursop, orange, lemon, tangerine, Ulu and more. Along with her daughter Reiko, and granddaughters Rachael and Eileen, she prepares for market each week using their citrus to increase the freshness of their baked goods and sushi.
Kuniko, along with her late husband Yasuro Kato, purchased and began planting the land at Hāna Garden when they retired and moved from Japan in 2011. Yasuro quickly began planting fruit trees he gathered from community friends, Kahanu National Tropical Botanical Garden and Mahele Farm. Soon, the land began to produce more than their family's needs. Appreciative of his new home and it's fruitful gifts, Yasuro built a small roadside stand to share the bounty of his orchard and flowers with the community. After Yasuro passed 6 years later in 2017, the garden he loved dearly and maintained daily, became idol until 2020. With the start of the Hāna Farmers Market, the Kato 'Ohana revived their orchard and official named their property "Hāna Garden,' in memory of Yasuro's wishes.
"The Hāna farmers market brings me to life through interacting with people in the community. It has helped us revive Hāna Garden, as if Yasuro's hands were still taking care of the land." ~Kuniko Kato
When Kuniko is not preparing for market, she enjoys working on her artwork using Japanese silk kimono fabric and volunteering weekly at Mahele Farm. She is also a licensed master of "Shodo" (calligraphy) and "Kado" (flower arrangement). 
This week at the Hāna Garden booth you'll find an assortment of freshly harvested fruit, loose leaf tropical teas, lemon bars, banana bread, mocha, haupia, kimchee and inari sushi. Inari Sushi, otherwise referred to as Inarizushi in Japan, is a type of sushi consisting of rice balls wrapped in deep-fried tofu pouches. Used as an offering to the Japanese Shinto God Inari, this is a favorite food of Kuniko and her 'ohana.
We're excited to have Hāna Garden at the farmers market, and look forward to seeing what new goodies pop out of Kuniko's kitchen this summer!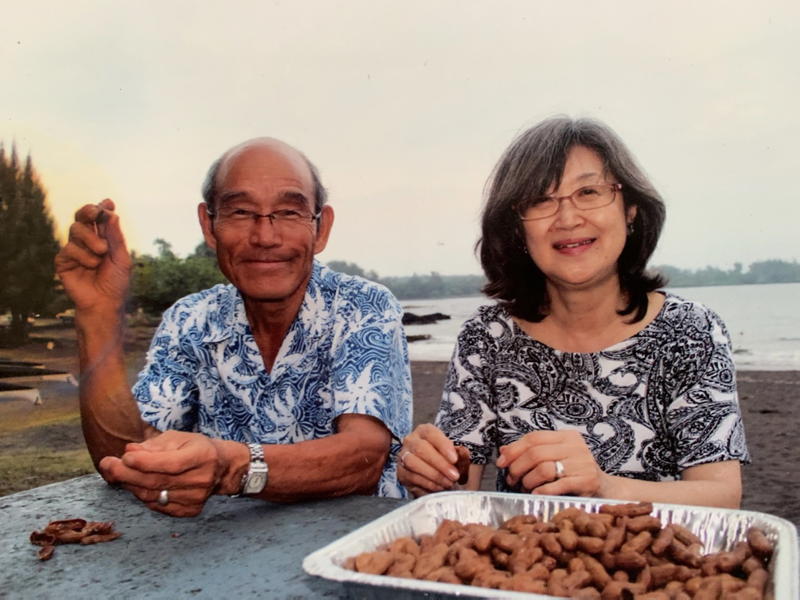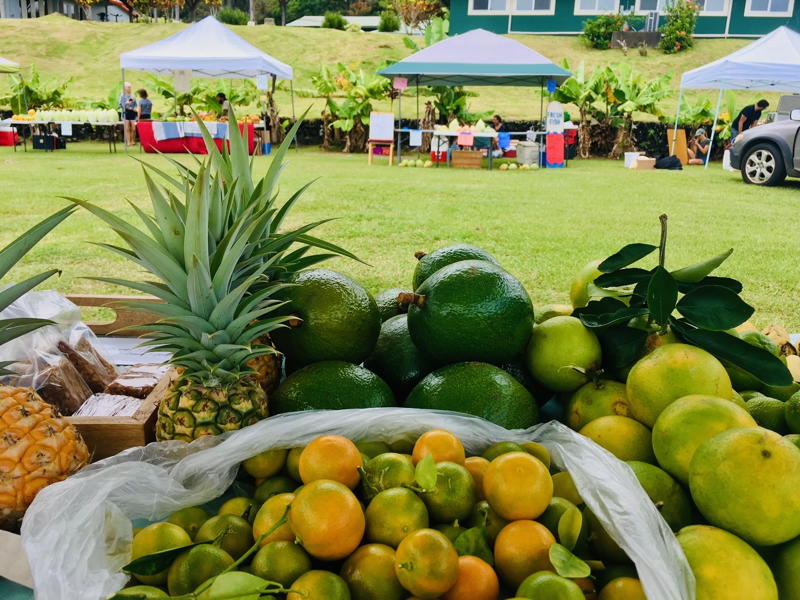 Inside the Kitchen at Hāna Gardens
Tropical Medicinal Fruit Teas
Kuniko and her family not only use the fruit from their orchard, they also dry and package a variety of fruit tree leaf including Noni, Soursop, Guava, Loquat and Hibiscus for use as medicinal tea. 
Find these teas at the market this week! Just boil the leaves for 15 minutes, strain, add honey and/or creamer of your choice, and enjoy!

Noni Leaf Tea
For thousands of years, antioxidant rich Noni leaves have been used to treat a variety of discomforts including: arthritis, bruises, cold, cough, infection, fever, headaches, inflammation, muscle aches, sprains and much more. The leaves may also be used as an ingredient in both tonics and deodorants.
Soursop Leaf Tea
Often used in herbal medicines for treatment of stomach disorders and parasitic infection, Soursop tea has gained much of it's attention from the claims of its anti-cancer properties