In honor of National Macadamia Nut Month, we'd like to introduce Matt "Ponch" & Leah Ponichtera. With a dream of living a more sustainable lifestyle and having a greater connection to the land, Ponch and Leah started their organically operated macadamia nut farm in Kaeleku in 2018. Come talk story during the market and try their AMAZING candied macadamia nuts with Hawaiian chili pepper-infused local honey.
"It's always been our goal to play a small part in feeding our community, and we're so grateful to the Hana Farmers Market for giving us the platform to do just that!" ~ Leah Ponichtera
Macadamia nuts are full of vitamins and minerals, making them great for cooking and snacking!
Need some inspiration? Try this week's featured vendor recipe.
---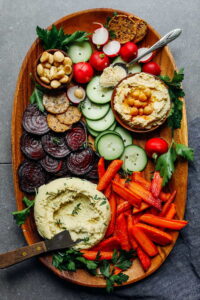 Macadamia Nut Cheeze
1 1/4 cup raw macadamia nuts
2 Tbsp lemon juice
2 Tbsp nutritional yeast, plus more to taste
1/2 tsp garlic powder
1/4 tsp sea salt
1/4 – 1/2 cup water
Fresh chopped parsley or cilantro (optional)
First grind macadamia nuts in your food processor. Next add lemon juice, nutritional yeast, garlic powder, sea salt, and 1/4 cup water. Continue mixing, while scraping down sides as needed. Add more water, 1 Tbsp at a time, until a thick paste forms.
Transfer the mixture to a cheesecloth. Rest the cheesecloth on a fine mesh strainer, set over a mixing bowl. Twist the top of the cheesecloth, so it forms a loose ball. Refrigerate 15 minutes, or up to 24 hours and serve with your favorite veggies and crackers.