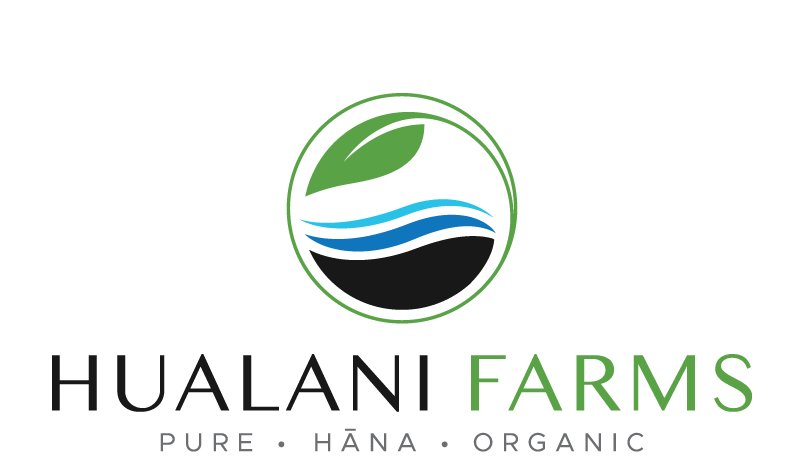 Angelia Wesch became interested in growing healthy organic produce more than 25 years ago with just a few raised vegetable and flower beds. Then, during her first trip to Hāna in 1989, she took just one step from her vehicle to know she had found her future home. It was in 2008, that Angelia purchased and developed Hualani Farms in Maka'alae with her two young sons.
From the time her sons were very small, they saw their mom digging in a garden, harvesting and eating fresh produce, and seasoning their food with herbs grown themselves. She believed in sharing with her children the importance of our food supply and the role we have in maintaining healthy agriculture.
Together, they now caretake the farm and bring their fresh harvest to the Hāna Farmers Market each week. They share many varieties of citrus, including Honey tangerines, Eureka lemons, Minneola tangelos and Tahitian limes. Currently, with a garden overflowing in beans and tomatillos, they look forward to the day their many long-term tropical spices (including nutmeg, cardamom, cinnamon, and vanilla) can make their way into Hualani products and market shopper kitchens.
Recently, Hualani Farms began selling their signature body care products using flowers, spices, and herbs grown on their farm. Along with oils from other Hāna based farmers, they strive to keep these products both fresh and locally sourced. Their Hualani Nourishing Body Butter is now available on the Hana Farmers Market online store and at their market booth. Created using an essential oil infusion of their farm-grown marigold blossoms, this careful process takes up to 6 weeks. Look for their lips balms and gardener hand scrubs, coming soon!
"Whipping up a batch of body butter makes my kitchen smell so lovely! Applied to your skin, it creates a moisture barrier for protecting against Hāna's strong sunshine and salty marine air." ~Angelia Wesch
Angelia is a proud member of the Hawaii Farmers Union United (HFUU) Hana Chapter and has used its member resources as a way to learn more about regenerative agriculture, composting, and ways to build healthy soil.
"Being able to participate as a vendor at the Hāna Farmers Market has made a tremendous difference in our approach to what we grow and harvest at Hualani Farms. It gives us a chance to experiment with many different vegetables and herbs, learning what really thrives in our Maka'alae micro-climate." ~Angelia Wesch
Visit the Hualani Farm booth this week at the market and meet the Wesch 'ohana. Make sure to pick up one of their Peanut Butter Chocolate Ganache Bars and you'll leave with a smile!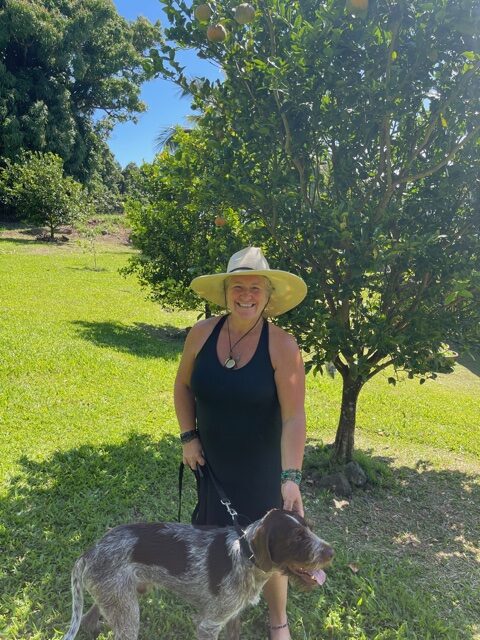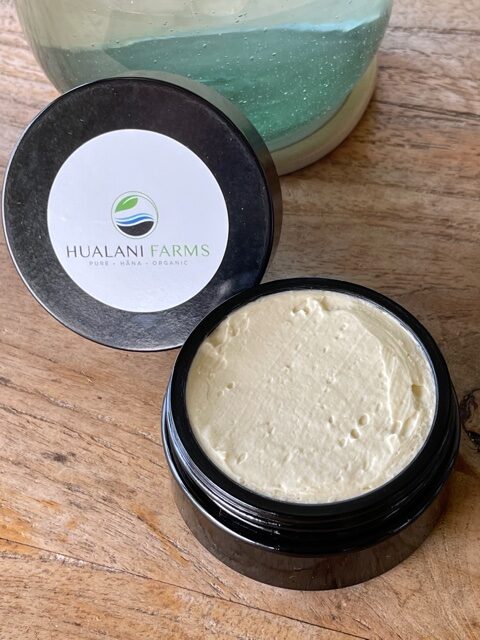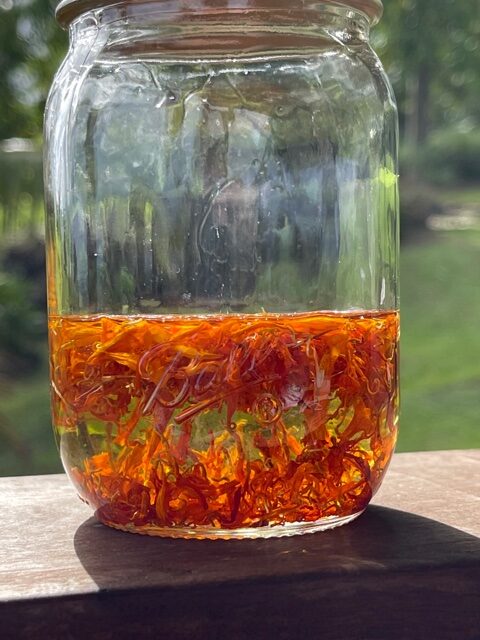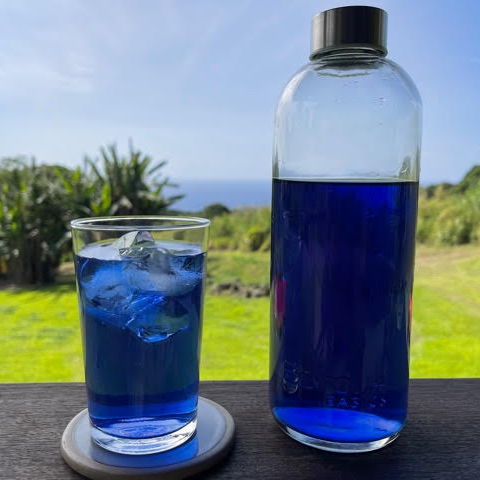 Tomatillo Salsa Verde
Ingredients
1 1/2 lb tomatillos
1/2 cup chopped white onion
2 cloves (or more) garlic (optional)
1/2 cup cilantro leaves
1 Tbsp fresh lime juice
2 Jalapeño peppers – stemmed, seeded and chopped
Salt to taste
1. Remove papery husks from tomatillos and rinse well
2. Coat the bottom of a skillet with a little vegetable oil. Heat on high heat. Place the tomatillos in the pan and sear on one side, then flip over and brown on the other side. Remove from heat.
3. Place the cooked tomatillos, lime juice, onions, garlic (if using), cilantro, chili peppers in a blender or food processor and pulse until all ingredients are finely chopped and mixed.
4. Season to taste with sale and cool in the refrigerator.
Serve with chips and enjoy!