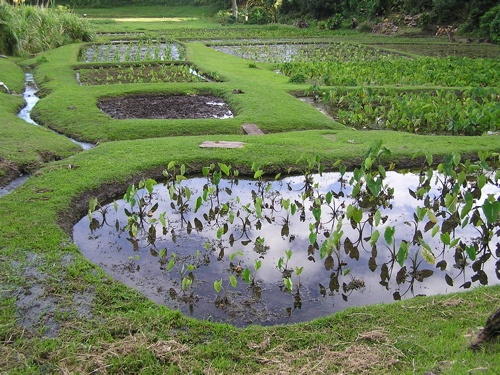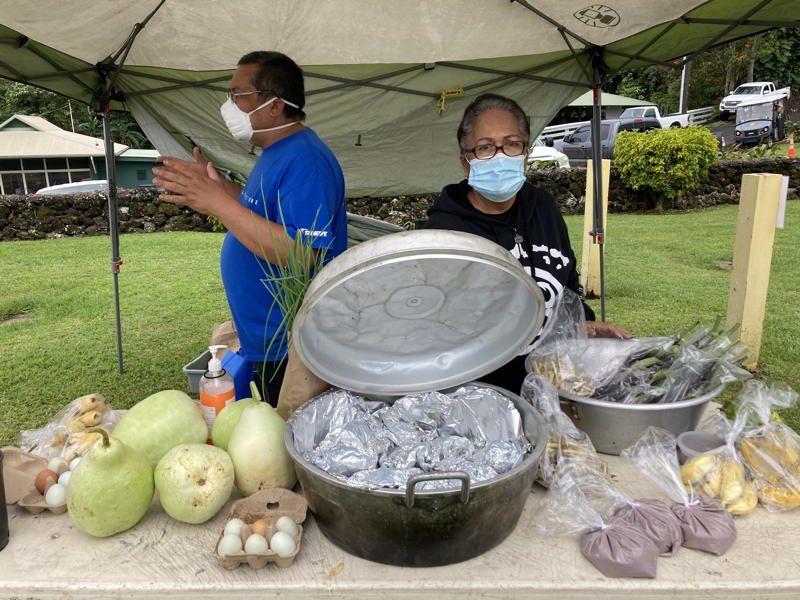 More than 25 years ago, native Hawaiian residents John and Tweetie Lind, along with Mike Minn, came together to restore the ancient lo'i (wetland taro patch) at the Kapahu area of Kipahulu, near the Ohe'o stream. This was the humble beginnings of Kipahulu 'Ohana, Inc., a non-profit organization dedicated to reviving, restoring and sharing the practices of traditional Native Hawaiian culture. The 'Ohana's mission is to educate residents and visitors alike, of the "ways of old" through cultural demonstrations and hands-on activities.
Since a formal cooperative agreement was established with Haleakalā National Park in 1995, the 'Ohana has managed the lo'i and its agricultural and educational programs. Now known as Kapahu Living Farm, Kipahulu 'Ohana is responsible for producing poi and other products to share with their community. Other programs under the 'Ohana's management include: a 9-acre pasture and fruit orchard on state leased land; a shared-use certified commercial kitchen and agricultural processing facility; and the Mālama I Ke Kai community-based marine management plan.
With the onset of the pandemic, Uncle John and Aunty Tweetie pivoted the 'Ohana's focus on educational groups and tours, towards a concentration on farming the land. Along with the loʻi, they stayed busy tending to cattle and chickens, while planting and maintaining their vegetable gardens. Soon after, they were harvesting cucumber, eggplant and long beans, in addition to their existing crops of kalo, ulu, mai'a (banana), citrus, starfruit, avocados and more.
"We decided to join the Hāna Farmers Market to share the excess produce from our bountiful garden. We offer ingredients enjoyed in the kitchens of our local Hawaiian community, such as Calabash squash (green Hawaiian squash), ulu, wing beans, green onion, kalo and poi. I enjoy watching everyone bring up all the boxes of vegetables from the farm. Thinking, 'wow, we grow all that!'"  ~Aunty Tweetie Lind
The Linds have been farming in Kīpahulu for more than 6 generations. John Lind Sr. (Jack) was the Ranch Manager for Kīpahulu Cattle Company, while his wife, Daisy was ʻmana leoʻ an original ʻōlelo Hawaiʻi speaker. Together they raised their family teaching them "the Hawaiian way" focusing on the importance of conserving both their cultural heritage and the environment. Back then, they were known for growing zucchini, watermelon, sweet corn and bananas.
"We've raised and fed nine keiki plenty of shoreline fish in our 'ohana's kitchen. Whether it was prepared raw, seared or steamed, we often tried to include poi and a vegetable. We provided everything on the table and encouraged our kids to try, teaching them not to make funny faces or smell the food out of respect" ~Aunty Tweetie Lind
During the pandemic 'shut-down,' the 'Ohana also made distributions of fruit and vegetables, fish and meat to families from Kīpahulu, Kaupō and Kahikinui, as well as the Maui Food Bank. Their farm stand in Kīpahulu is currently still closed, with hopes to reopen and again talk story with visitors soon.
This week, visit Kīpahulu 'Ohana at the farmers market and meet Kaʻuiki, Uncle John and Aunty Tweetie's son. They'll be offering fresh bags of poi, raw and cooked kalo, cucumbers, eggplant, bitter melon, long beans, squash and bananas.
Visit their website at kipahulu.org to learn more about their programs.
Not sure what to do with your fresh cucumbers and bitter melon? Try these quick and easy recommendations from Aunty Tweetie's kitchen. 
Cucumber Namasu
Namasu is a Japanese recipe that soaks sliced vegetables in a sweet vinegar mixture. You can eat them as a salad on their own, or wherever you need to add pickles!
Bitter Melon Stir-Fry*
Bitter melon makes a great stir fry with the addition of chicken, pork or eggplant. Most enjoy the bitter flavor, but Aunty Tweetie suggests cutting off the ends, splitting them in half, removing the seeds and boiling them first to lessen their intensity. You can also stuff them, make soup or do a sweet pickle. Aunty encourages you to experiment! 
Plus check out all these bitter melon health benefits!
-Lowers blood sugar
-Nutritionally dense including: Folate, Vitamin C & B-6, Iron, Zinc, Potassium, Manganese and Magnesium 
-Antioxidant Rich including: beta-carotene, alpha-carotene, and lutein
– Rich in Fiber, making it great for your body's digestion
*Bitter melon should not be consumed by pregnant or nursing women. It should not be provided to infants and small children because of its hypoglycemic outcomes. If you are taking diabetic prescription medications, bitter melon can enhance the effects of these medications and cause severe hypoglycemia. Check with your medical professional before consuming if you have diabetes and are taking regular medication.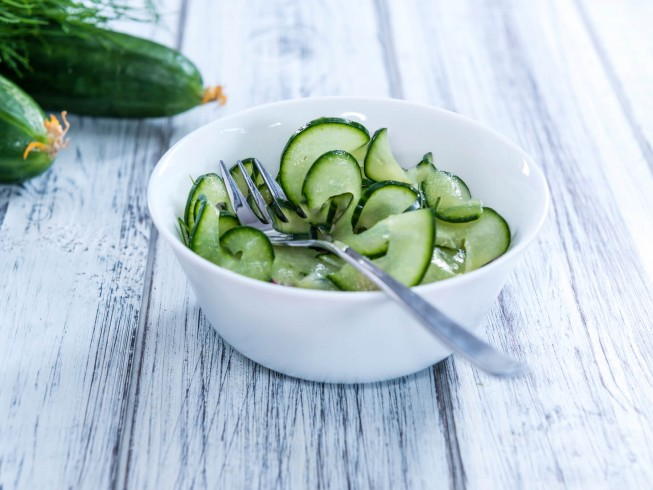 Cucumber Namasu
Ingredients:
3 cucumbers
1 Tbsp salt PLUS
1/4 tsp salt
1/4 cup sugar
1/4 cup rice wine vinegar
1 tsp grated fresh ginger
Slice cucumbers lengthwise and scrape out seeds if desired. Slice cucumbers very thin on the diagonal.
Place slices in a bowl and sprinkle with 1 Tbsp of salt. Let stand 20 minutes.
Rinse and drain the slices well, squeezing out any excess water using a kitchen towel. 
Return cucumbers to the bowl. In another bowl stir together remaining salt, sugar, rice wine vinegar and ginger. Mix well, then pour over the cucumbers. Stir gently to combine, cover bowl and chill until ready to serve.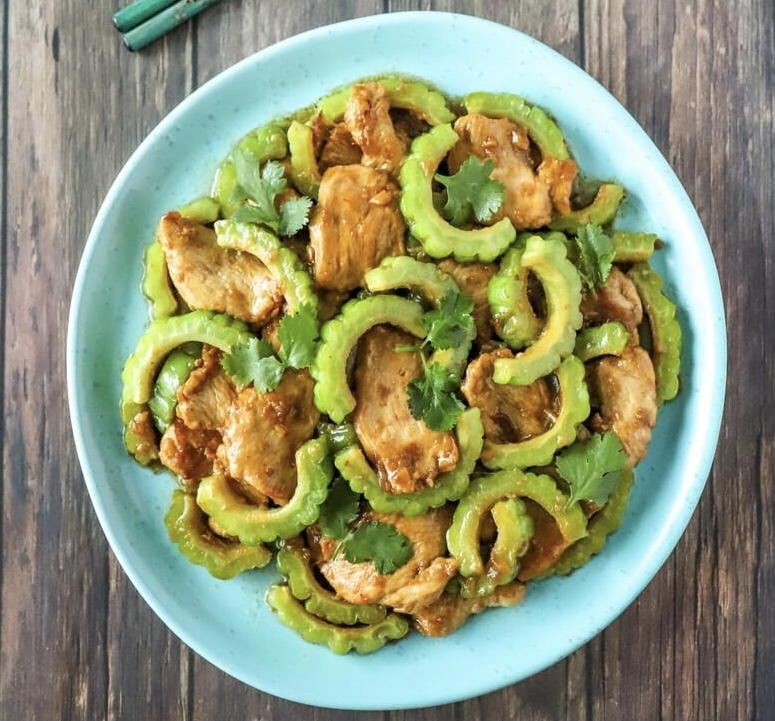 Bitter Melon Stir Fry
Ingredients:
8 Tbsp extra virgin olive oil
2 lb skinless and boneless chicken breasts, trimmed and thinly sliced against the grain 
3 garlic cloves, peeled and finely minced
1 inch ginger, peeled and finely grated
2 medium bitter melon
Steamed rice to serve
For Sauce:
3 Tbsp coconut aminos or shoyu
2 Tbsp medium dry sherry
2 tsp honey
2 tsp potato starch mixed with 1/4 cup water
Marinade:
2 Tbsp coconut aminos or shoyu
2 tsp potato starch
2 Tbsp medium dry sherry
1/4 tsp ground white pepper
Garnish:
2 sprigs of cilantro, including stems, roughly chopped
Wash bitter melon and cut into half lengthwise, Scrap out seeds using a spoon and removing the white pith completely.
Slice bitter melon into 1 cm thick pieces
Combine chicken with marinade ingredients in bowl and set aside.
Prepare and mix the sauce ingredients, except for the potato starch, in a separate bowl and set aside. 
Heat wok with extra virgin olive oil and pan fry the bitter melon on medium for 2 minutes. Remove and set aside. 
Add remaining oil, garlic and ginger and stir-fry on low heat until lightly golden. 
Add chicken and stir-fry and additional 2 minutes on high heat, add potato starch and bring to a boil.
Now return the bitter melon and continue to stir-fry until the sauce thickens and the dish is heated through.
Garnish with cilantro and serve with rice.