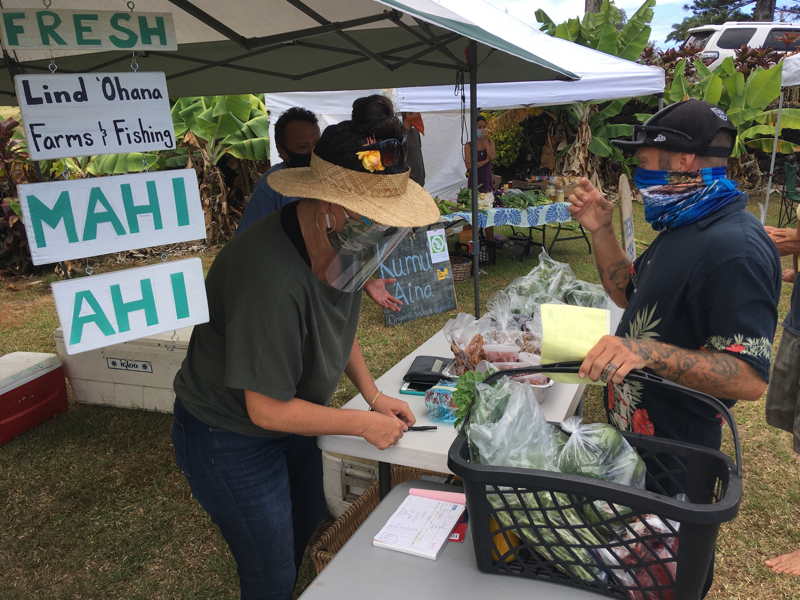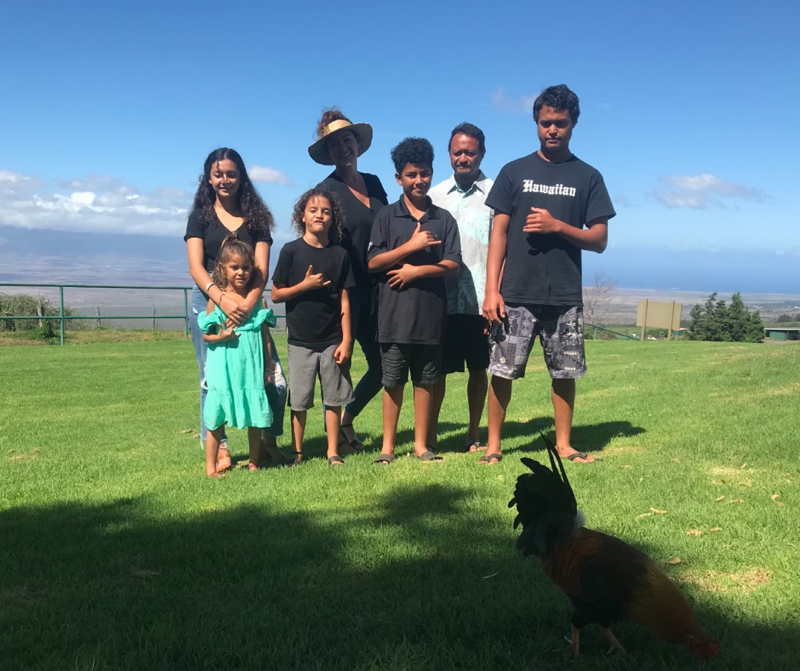 The Lind 'ohana has been farming in East Maui for generations, as both a way to provide food for their survival and family business.
After growing up farming and raising animals with Eunice and Greg Lind Sr. in Kipahulu, Gina and Greg decided to carry on the tradition by starting their own farm.  They believe farming and fishing allows them an opportunity to teach their children hard work and sustainable agricultural practices. Gina is also a long-time teacher at Hana School and aims to pass on her skills and trade by providing educational field trips and student work opportunities on their farm.  With the onset of the pandemic, the Lind 'ohana pivoted their business from supplying outlying restaurants, to providing food for their own community. One of the first vendors to participate in the Hana Farmers Market, the Lind's wondered if the community would enjoy sharing in the abundance of their products and family recipes.
"The market has allowed for us to connect with our community, share what we make, and make new friends in the process. Market prep has us working 7 days a week, but the joy we get out of people appreciating our items makes it all worth it" ~ Gina Lind
For fresh-caught fish, pasture-raised cattle and garden veggies, you can find The Lind 'Ohana Farming & Fishing booth weekly at the Hana Farmers Market and for purchases in advance on online. With Smoked Marlin available now on their farm menu, try out this favorite family recipes from Gina's sisters, Theresa and Kimi for Smoked Marlin Dip. We hope you enjoy!
Ingredients:
1 Cup Cream Cheese
1.5 Cup Mayonnaise
1 Tsp. Worcestershire Sauce
1 Tbsp. Cayenne Pepper
1 Cup of Shredded Smoked Marlin
Using a cheese grater, finely grate the smoked marlin. Add softened cream cheese – Naked Cow Dairy Country Dill Cheese Spread is awesome! Add mayo and mix with a fork until thoroughly blended. Add cayenne and worcestershire sauce, mix until it is evenly distributed. Use it as a dip with crackers, tortilla chips, or with shredded cheese in a quesadilla!