It all started with a roadside stand, they called, "Hāna Road Fruit Party" back in 1999. That's when Shone and Froyam Edel married, moved to Hāna and began transforming their jungle property, Taj Mahana Farm, into a fruit tree paradise.
Originally from Montreal, Canada, Shone is a homeopathic practitioner working with patients from across Maui. While Froyam, has a background in the food industry as one of the founders, and the original kitchen manager for the Unity Circle Co-op in Paia. In 1981, he opened Froyam's Kihei Fish Market where he was best known for the local catch, pizza, sashimi plates, fresh tuna salad and his famous "Froyum Destroyams Triple Chocolate Cookie." 
In the start of 2020, they began producing microgreens for Hana's hotel, restaurants and food trucks.  Soon after, they joined the very first Hāna Farmers Market and found an opportunity to share their love of micro-greens with a whole new customer base… the local community!
"Microgreens remind me of homeopathy.  Small, yet so powerful! We love these little beauties, and farm them in a safe, secure, screened growing-room with natural sunlight." – Shone Edel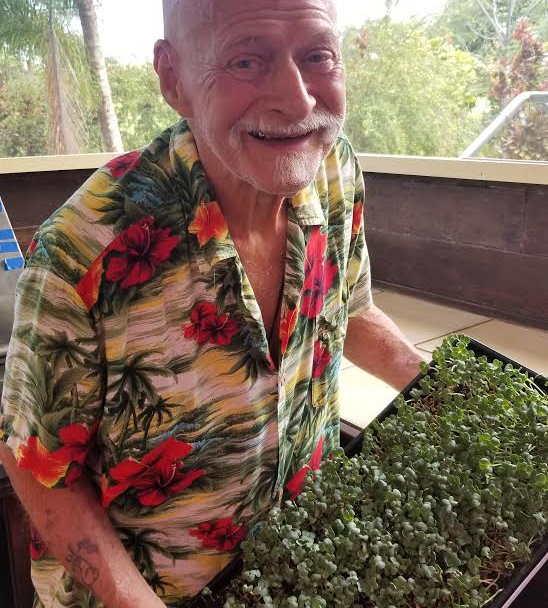 As well as a variety of freshly harvested microgreens, Taj Mahana Farm produces a salt-free Microgreen Superfood Spice, a Pea Protein Powder and Microgreen Pestos. If your lucky, you'll also catch them offering their gluten and sugar free organic seasonal fruit pies and galettes. 
The Edel's consider theirselves "foodies" and always experiment with their microgreens in the kitchen. They enjoy adding their pestos to fresh fish, chicken, steak, and burgers.  Simply coat or mix one container of pesto into your protein of choice, then sear, grill or bake. Voilà! 
Fun Facts about Microgreens:
• These little greens contain more than 40% more nutrients than their mature leaves
• Considered a superfood, microgreens are loaded with antioxidants, Vitamin C, Vitamin E, Vitamin K, Iron, Phosphorus, Calcium, Magnesium, Potassium, Folic Acid and Fiber.
• Due to their sizable amount of sulforaphane, studies have shown Broccoli mIcrogreens can help prevent the growth of cancer cells in both the breast and prostate. Amazing!
Elevate your burger with microgreens!
Microgreen Pea Pesto Burger
Mix (1) 4oz jar Microgreen Pea Pesto and a sprinkle of Micogreen Superfood Spice to 1lb of your choice ground beef, turkey, venison or pork. 
Form patties and fry in your cast iron skillet for a great crunchy crust. 
Top with our fresh microgreen salad mix and burger toppings of your choice.
Delicious on its own, or with a freshly baked kalo bun from East Side Baking Company. 
Vegetarian? Try our Veggie Pesto Medley!
Veggie Pesto Medley
Ingredients:
1 Lg onion (diced)
2 cloves of garlic (chopped)
2 cups green bean cut in 2-3 inch pieces (available at the market!)
2 oz Micro-green Medley Pesto
1 tsp cornstarch
In your cast iron skillet, saute onions and garlic in olive oil over medium heat.Add green beans and continue to saute until soft. Next sprinkle with Mirogreens Superfood Spice and combine with pesto. Finish by mixing in cornstarch and add additional pesto if desired.