Koali Kine is a 7th generation family-owned and operated farm in the district of Koali. Located on family lands passed down from King Kamehameha III, Fawn Helekahi and Paulo Burns 'ohana work together to share their farm fresh produce and products with the Hāna community each week at the market. 
"The main goal of the farm at first was to be prepared to survive off of the land in case the barges ever stopped coming. When the farmers market opened, we decided to try and make back something from our investments over the past 20 years. As a Kanaka Hawaiian, it's my inherent duty to reciprocate the love of the ʻāina. These lands of Koali have been in my family for more than 100 years. Now I'm working it the same way my kūpuna (ancestors) has done in order to allow the land to provide for my family. I enjoy the values and morals that the land teaches me and the foundation that my children is learning. The market has an incredible impact on our farm by allowing us to see our true potential for living a healthy, earth conscious, Hawaiian lifestyle.  ~Fawn Helekahi-Burns
Fawn and Paulo first started planting together in 1998. Originally from Puna, Hawai'i, Paulo was a kalo farmer with a bachelors degree in Agriculture and Biology with a minor in Hawaiian Studies. He recalls working in the garden and eating his own foods from as early as he could walk, always gardening and gathering wild fruits from the forest alongside his parents. Also not a stranger to the garden, Fawn grew up following her grandfather, Papa Joe Tolentino, around while he tended to his many projects including: his orchid house, vegetable garden, stone walls and seashore gatherings. They say their kids never had a choice but to help every step of the way. From digging and prepping, to planting and harvesting, they learned how to sustainably live, feed their 'ohana, and run a successful market booth for their community. 
"I love being in nature and I love to see the results of planting and getting food from the land. It feels so good to know what I am eating and to be able to share healthy food with others. The land is a spiritual place where I find God easily to speak with and where I know that I am supported and loved." ~Paolo Burns
After relocating to Hāna from The Big Island in 2001, they started planting at both Fawn's parent's house in the subdivision, and at the teacher cottage at Hāna School, before finally cultivating Fawnʻs family land in Koali in 2004. They started by ordering 60 fruit trees which have become the orchard they nurture and harvest from today. Their homestead now has a wide variety of food, medicinal plants, and flowers. They also make products from their 'āina using all organic ingredients to create lilikoʻi butter, guava jam, pohole pickles, Hawaiian mamaki and wapine teas, healing salves, dehydrated fruits, and steamed lū'au.
Fawn is now the Director for UHMC Hāna Education Center, while Paulo has been a teacher at Hāna School for the past 20 years. Additionally they are involved and support Taro Fest, Aloha Week, Hāna Canoe Club, and many additional community nonprofits and educational activities. Visit them this week at Market and you will surely leave fulfilled.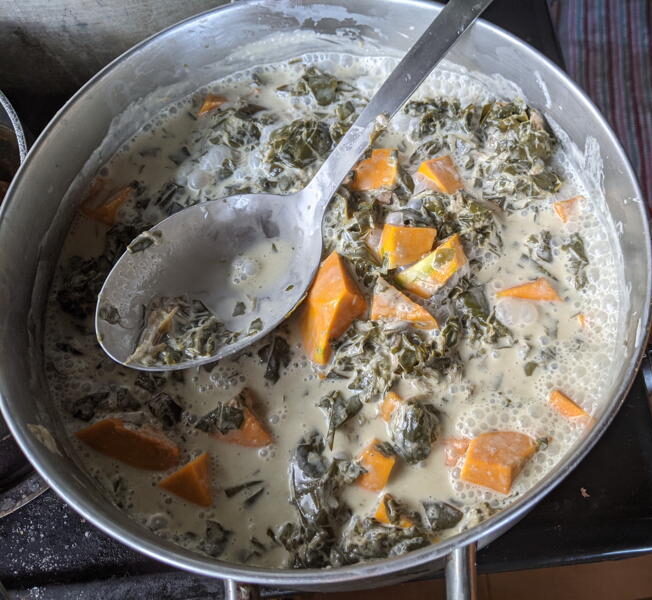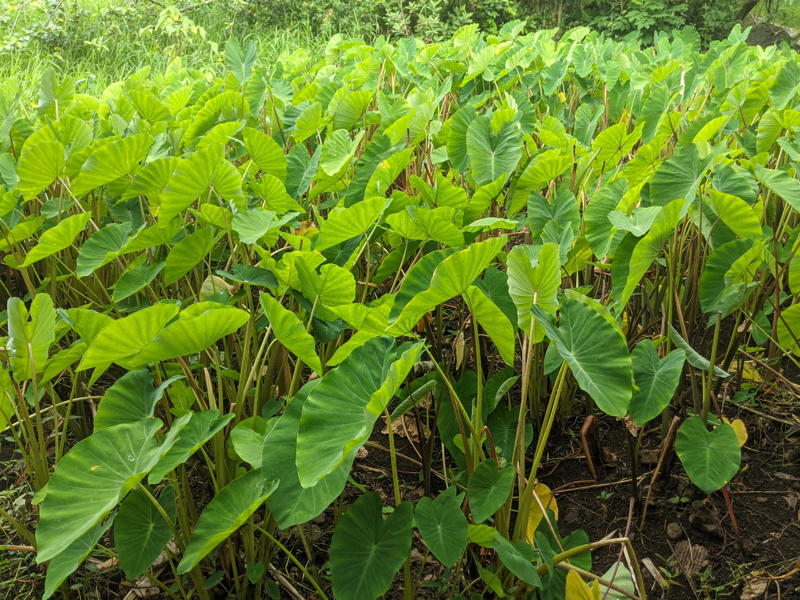 Cooking with Koali Kine
Pumpkin Lūʻau
If you ask the Koali Kine farmers their favorite item to share at market, their response without hesitation is cooked lūʻau (kalo or taro leaf). We know it's one of the main ingredients in Hawaiian cooking, but did you know that women in the 'old times' were known to practically live off of these iron filled greens! 
Aunty Fawn enjoys making this vegetarian dish, featuring local market ingredients found on her farm in combination with others.  She says it has enough nutrients to be an entire meal.
We hope you enjoy – Click the recipe link below.
Find these Ingredients at the Market:
Kabocha 'Pumpkin' Squash – Koali Kine Farms
Cooked Lū'au – Koali Kine Farms
Coconut Milk – Hāna Jungle Kitchen & Kumu 'Aina Permaculture
Pumpkin Lūʻau
Ingredients:
1 kabocha pumpkin
1 quart Koali Kine cooked lūʻau
1 quart Fresh Coconut Milk or 3 cans
1 tablespoon sea salt.
Peel and cut pumpkin into 1 inch cubes. 
Combine coconut milk, lūʻau and salt into a pan and bring to a boil.
Add in pumpkin and turn heat down to a simmer. 
Stir often, adding more coconut milk if it looks dry. 
Cook until pumpkin is soft and serve warm.
Easy, Delicious and Nutritious!