Kemei and Steve Gold happily harvest, wash, pack and deliver some of the freshest, most colorful produce available in East Maui. Cabbage, choi, beans, uwala (sweet potato), daikon, eggplant and tomatoes, are just naming a fraction of the gorgeous produce grown and adored for by this "retired" farm couple.
The Golds began growing together in lower Nahiku, transporting produce to local grocers, before moving to Ka'elekū and starting their Hāna Highway roadside farm stand about 13 years ago. They were tired of moving product to the other side of the island, and aspired to create a stand that would not only provide farm fresh fruits and baked goods, but also feature Kemei's artwork as well.
They started with fruits, some veggies, and cold drinks. Then Kemei began potting up some of the plants she loved: succulents, orchids, cactus, and veggie starts were soon available for locals and visitors in their farm nursery. Now, their orchard and gardens have expanded to encompass more than 75% of their farm.
"Hāna Farmers Market gave me the ability to do what i like to do, which is farming! I use to sell to Mana Foods, Down to Earth, and the hotel. Now, I just sell at the market. Without the market, we would have to change how we sustain ourselves. We went to the first market, and it looked like a cool thing to do. We joined the second market, and haven't missed one since." ~Steve Gold
Steve found his inspiration for farming from his grandfather. A farmer both in South Africa and Maine, he moved to New York and become a delicatessen around the Great Depression. At 20, Steve moved to California and began building on his own farm skills. Just one year later, he found Hawai'i and has called it home ever since. He's raised three sons in Nahiku, watching them run around the garden eating as small children, and then beginning to flip compost and weed the garden by age 6. Matt, Nate and Eli are now all accomplished fisherman, sustaining and feeding families of their own.
Steve found he enjoyed working better for himself, and was happiest being outdoors. His favorite part of farming is the challenge of figuring out how to grow different plants. The Lychee, his current favorite, is producing more than 100 lbs. of fruit available at the market this week.
An accomplished potter, jewelry maker and clothing designer, Kemei always dreamed of having a home in the countryside with vegetable gardens and fruit trees. She began planting things after moving to Nahiku from China and is, for the most part, a self-taught gardener. She's most excited about harvesting from her new flock of 75 quail. She raised them all during the pandemic, along with her 33 'chicken babies' she incubated herself.
While the Golds are waiting a bit longer before reopening their roadside stand, you can find them weekly in their booth at the farmers market. They'll be there with plenty of quail eggs, dried fruits, homemade jams, lychee and fresh-from-the-garden veggies.
Secrets from the Gold's Kitchen
Marinated 'pickled'   Quail Eggs

Quail eggs have been used as a treatment in Chinese medicine for hundreds of years. Packed with vitamins and minerals, these miniature eggs have three times the nutritional value as the average chicken egg. 
They are considered to be the "ginseng among animals" and are promoted as a nourishing food.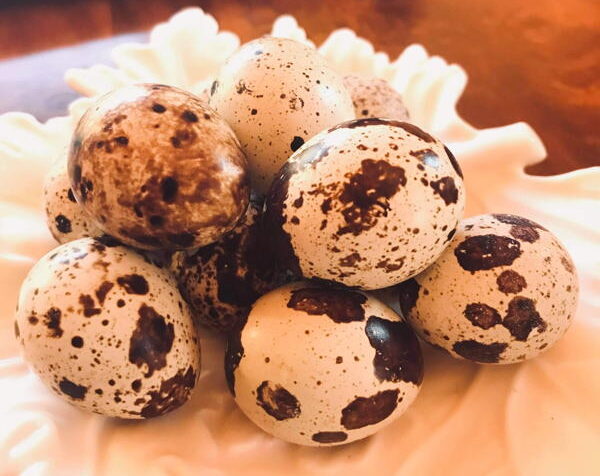 Known to boost the immune system, promote growth, stimulate brain function, purify blood of heavy metals, and SO MUCH MORE… Quail eggs also hold a reputation as a fun keiki-sized food that's easy to peel, all themselves! 
"My grandkids love quail eggs. This is why I have quail! It's best to eat them every day to prevent memory loss.  Steve makes an 8 quail egg omelet every morning!" ~Kemei Gold
Kemei enjoys marinating 'pickling' quail eggs by the hundred. Paired with any assortment of cooked or stir-fried vegetables, she says quail eggs make your plate a complete meal. 
Visit Steve and Kemei's farm booth at the market for ingredients to make your own jar of marinated quail eggs. Available for $8/dozen or $6/dozen for Kūpuna residents. 
Marinated 'Pickled' Quail Egg Recipe
Easy Instructions for Marinated 'pickled' Quail Eggs:
-Place quail eggs in boiling water for 4 minutes to 'hard boil'
-Place aside and let them cool before cracking the shell to peel
-Saute' seasonings of your choice in olive or grapeseed oil. Recommended seasonings include: garlic, ginger, lemongrass, rosemary and basil
-Add to your pan 1-2 tsp Apple Cider Vinegar, 1 tsp sugar and salt to taste
-Coat peeled eggs in the herb and oil mixture, place in a clean glass jar and store in the fridge – ready to eat in just two days!
For a twist: add a bit of sesame oil and sesame seeds when coating your eggs (do not cook the sesame ingredients).
Also Note: Always use a clean spoon or chopstick to remove eggs, this will help keep your eggs preserved and long lasting in the refrigerator for months.