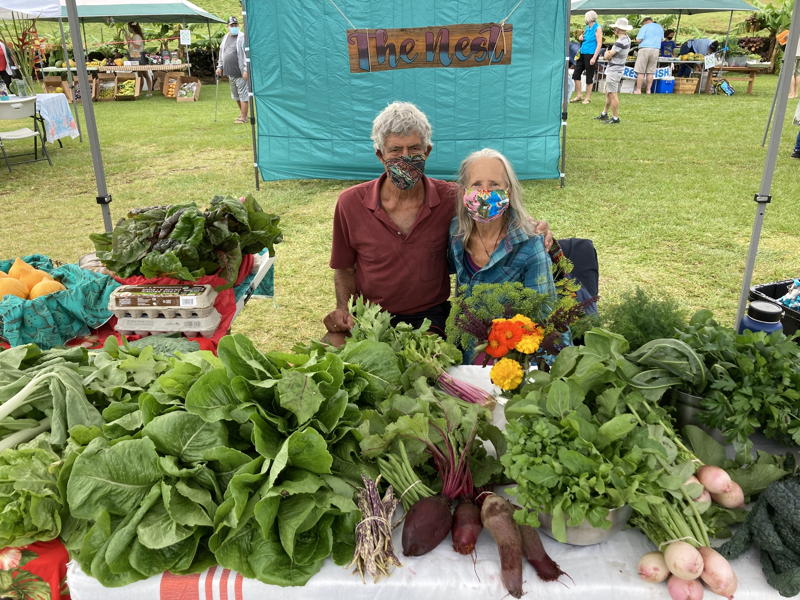 With a seed of hope, and a dream in her heart, The Nest Farm began nearly eight years ago by land owner Gabriella Bengis in Kipahulu, Maui. Throughout the years, the farm has thoughtfully cultivated many long term crops with aspirations of adding a short term crop garden in the future. Now, with the help of their amazing farm crew – Chuck, Lindsey, Ben, and Kulture – they finally have a glorious market garden full of vegetable crops ready to harvest each week for the community of Hāna. 

Their collective efforts bring two decades of Hawaii farming experience to their garden. Their diversity of vegetables, each adapted for the different seasons, are nutrient dense and full of flavor. In the winter, they love to grown different varieties of lettuce, kale and Asian greens. While In the summer, they focus on basil, okra, eggplant and beans. 

"We also put energy into growing flowers, as they support beneficial insect attractants, which give us greater diversity and healthier plants. Moreover, we also have an integrative poultry orchard grazing system, with flocks of free-range ducks and chickens, which provide us with healthy eggs and fertilizer." ~ Chuck Estin

Chuck is a permaculture designer and educator who began farming together with Lindsey, on Kauai, 6 years ago. However, his roots continue growing deeper here in East Maui, where is farming efforts are greatly appreciated! One of the first community members to stand up and volunteer support for the development of the farmers market, Chuck was motivated to stat expanded his own scale to become a regular market farmer.

"I find that the healthiest way to live, is to grow my own food. I also enjoy sharing that bounty with others, which makes it even more fulfilling." Chuck Estin

Chuck and Lindsey both work closely with Ben, who has been farming in East Maui for the past year. He developed an interest in localized food production while growing up in Arkansas, where, to him, it became clear the importance in healing the divide between consumer and producer.  Also a wine maker and dive instructor, Ben joined our community after tending to a friend's winery in New Zealand. 

Mahalo to The Nest Farm, for helping to sustain and feed our community!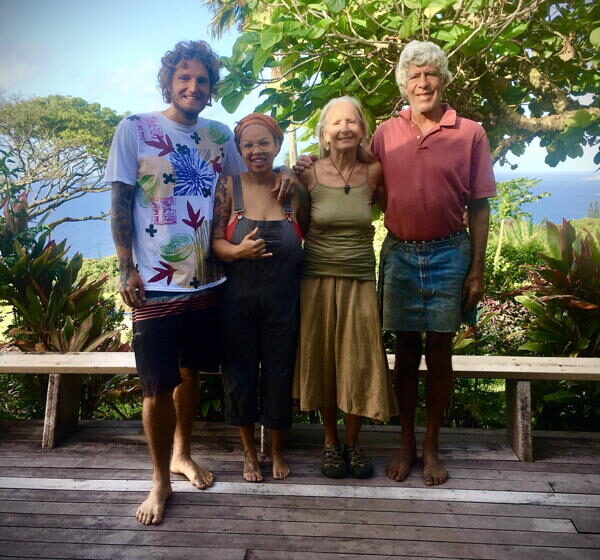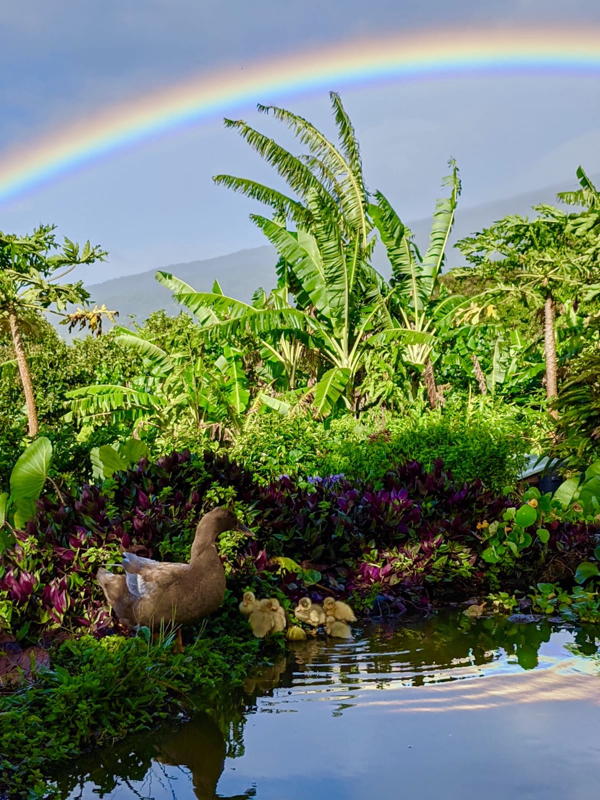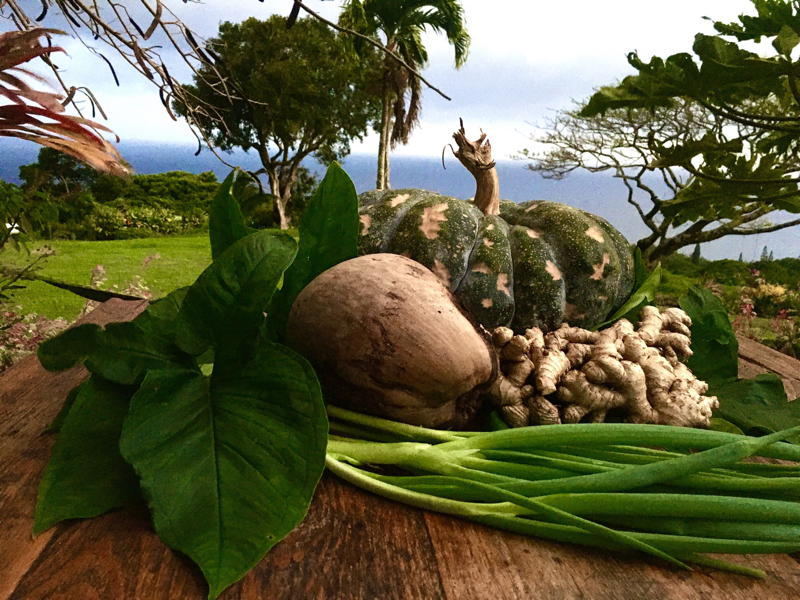 Kitchen Secrets from The Nest Farm
Gloria's Tahitian Kalo Coconut Squash Soup
We are so excited to try this island inspired recipe from Kulture!  She learned by way of her grandmother in Jamaica, who owed a 130 acre farm with her grandfather. They're still out there today, growing fruits and veggies on their smaller two acre property. Kulture has called Maui home for 7 years. She began farming in Kipahulu at Laulima Farm, and continues to work the 'aina as well be an artist, art educator, transparent communications advocate/coach, Laulima Farm stand attendant and organic food chef!
"I grow food because it's empowering to see how placing my energy into the land can then revitalize my own body and spirit. I tend to the Earth, to give back, in honor of all it provides to me. I also love to grow food to support my health and the health of my community, friends, and family." Kulture Parkin
Grab these Ingredients from The Nest Market Booth this week, and share Kulture's family recipe with your 'ohana by clicking the button below! 
Ingredients: 
Squash
Tahitian Kalo Lū'au (Taro Leaf)
Onion
Coconut Milk
Thyme
Green Onion
Salt
Coconut Oil or Olive Oil
1. Preheat oven to 425 degrees. While the oven is warming, skin the squash and remove seeds. Cut the squash into same size chunky cubes. Coat baking sheet with coconut oil (or olive oil). 
2. Place squash cubes on the oiled baking sheet and  mix them around so that they are coated with oil. Sprinkle salt and pepper over squash. Place in the oven and cook until tender.
3. Chop onion.
4. Rinse Tahitian Kalo lū'au and cut into thin strips (1/2 inch thick)
5. Meanwhile in a medium skillet, warm 1 tablespoon of coconut oil over medium heat until simmering. Add chopped onion to the skillet and cook for 3 minutes. 
6. Add water, coating the bottom of the pan (1 inch). Add lū'au to the pot and cook for 15 minutes on low. (If water evaporates before 15 minutes is up, add more. 
                Important: lū'au must be cooked all the way, otherwise it can make the throat itchy. Onions should be soft and caramelized.
7. Blend roasted squash, allowing room to add coconut milk. Add coconut milk (start with 1/2 cup), cooked onions, cooked lū'au, and thyme to the blender. Blend until creamy. 
                If consistency is unable to be achieved after initial blending, add more coconut milk. Add salt until desired taste is achieved. 
8. Pour blended creamy soup into a bowl. (The soup will have a green hue to it from the lū'au.) Garnish with chopped green onion. 
        Enjoy!