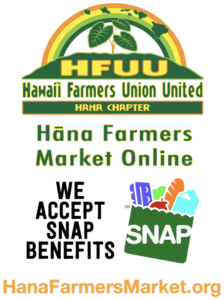 Hana Farmers Market accepts SNAP/EBT benefits both online, and at the market itself.
See flyer below for assistance signing up for SNAP benefits.
Online Market
To shop with SNAP/EBT benefits online, following these steps:
Go to the Hana Farmers Market Online.
On the market website, click the Sign Up! link in the upper right corner.
Enter your email and password to create a new account.
Once you log in, on your Account Information page, enter your contact information, and on the right side select Preferred Payment Method: SNAP/EBT and click Update Account Information button.
After placing items in your cart, when you're ready to check out, on the Order Checkout page it should say SNAP/EBT under Payment Information on the left side. (If it still shows Credit Card, you can click [Update Payment Information] link and then select SNAP/EBT.)
When you come to pick up your order at the market on Friday afternoon, bring your EBT card and we'll swipe it for payment of eligible items at that time.
Physical Market
Come to the Hana Farmers Market on Friday.
Go to each vendor that you want to purchase eligible items from using EBT, and they will make out a receipt and give you a copy.
Bring a copy of that receipt to the Hana Farmers Market tent.
We'll run your EBT card, and mark your receipt(s) as paid.
You take the receipt(s) back to the vendor(s) to receive your items.
Shop Now at Hana Farmers Market Online!
Need Help Signing Up for SNAP?