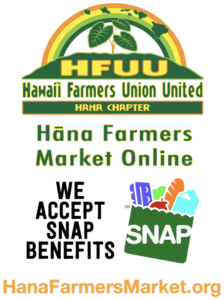 Hana Farmers Market accepts SNAP/EBT benefits both online, and at the market itself.
See flyer below for assistance signing up for SNAP benefits.
Hana Farmers Market also participates in the Da Bux (Double Up Food Bucks) incentive program, which offers automatic 50% discounts on eligible items purchased with SNAP benefits, including all fresh produce, fruit, herbs, mushrooms, poi, nuts, 100% fruit juice and coconut milk, and food plant starts.
Physical Market
Come to the Hana Farmers Market on Friday.
Go to each vendor that you want to purchase eligible items from using EBT, and they will make out a receipt and give you a copy.
Bring a copy of that receipt to the Hana Farmers Market tent.
We'll run your EBT card, and mark your receipt(s) as paid.
Your 50% Da Bux discount on eligible items will be applied automatically.
You take the receipt(s) back to the vendor(s) to receive your items.
Online Market
Hāna Farmers Market is now a pick-up location for Maui Hub.
Maui Hub accepts SNAP EBT and the DA BUX discount. All SNAP customers automatically receive 50% off fresh fruits, vegetables, and poi!
The order total on your invoices will not include the DA BUX discount. We will apply the DA BUX 50% discount before processing your payment.
Hāna SNAP customers will need to arrange payment before pickup on Friday – Maui Hub will not have a card reader on-site for online orders, so Maui Hub will run EBT cards over the phone. Please email info@mauihub.org if you have any questions about payment!
Need Help Signing Up for SNAP?